We tried to make the atmosphere of Christmas like home, but it was not so easy, as everything is so different here. We were going to a big Christmas dinner event with the other Norwegians in Nepal, but then I found out that I did not have a proper dress to wear, so I cycled on Gards tall Indian bike, which goes like a shot, right down to a Tibetan store in the area, to buy a Tibetan dress in silk fabric. That was all good. But while I biked in this dusty traffic and the sun burnt and the many people I passed shouted loudly if we were to buy some vegetables today, I thought to myself; this is for sure the weirdest Christmas celebration I am ever going to experience.
Luckily, my mother and mother-in-law had brought some gifts from Norway, which Kristoffer could open, and all cards were read several times, but most of the packages were unfortunately confiscated by the Nepali Postal Service. Well, well.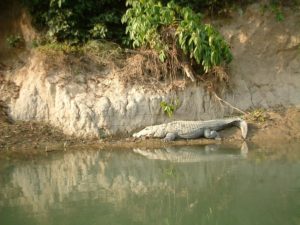 After that we went to Chitwan at the Indian border on a Christmas holiday, where we sat on an elephant, had a bath in the river with it, looked at rhinos and crocodiles from a traditional boat, we went on tiger safari in the jungle, both by jeep and by foot. It was a remarkable and fantastic holiday, may be the best one ever. I am only sad it is over.
Big hug to all!
Christmas Greetings from Nepal, Desember 2004
Annonser
---