Look what is happening to our country, one of thousands who have gathered in front of the manpower agency says in despair. People are throwing computers, chairs, tables, wires, papers, telephones and other office equipment out of the windows, while the crowd screams.
It all began at eight o clock yesterday evening when Nepal Television showed pictures of the twelve murdered nepalese, who have been kept hostages in Iraq the last twenty days. One of them had had his throat cut over, the others were shot, all of them laying on their stomachs on the floor with blood stains on their clothes. After that we could follow a serial of encounters with the mourning families here in Nepal. One mother laid on the floor, she had no strength left.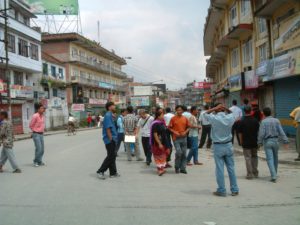 The twelve assassinated nepalese are among thousands of innocent poor who have applied for jobs abroad to support their families in Nepal. They all represent different areas of Nepal and at the same time the many poor of Nepal. The manpower agency which sent them to work in Jordan, later in Iraq, is very unpopular here in Kathmandu. Poor people have paid high prices to get work through the agency, but have waited for months without any work. These twelve thought they were going to work in Jordan, but were later sent illegally to Iraq to work there in stead. Therfore the whole nation of Nepal has followed their destiny carefully these last twenty days after they were kidnapped by the islamic military organization Ansar al-Sunna, straight after passing the border of Iraq.
Already after the Nepal Televisions news yesterday evening, I should have understood that these disturbing news would cause some reactions here in Kathmandu. Two hours later, at ten o clock in the evening, some people started to throw stones at the Moonlight Consultancy Pvt. Ltd, the manpower agency which is situated in Lalitpur close to where we live. Today it continues with riots all over the town, tires being set on fire to obstruct traffic and people demonstrating. The anger is not only directed towards the manpower agency, but also towards the government which the rebels think have done too little to rescue the kidnapped and to support their families.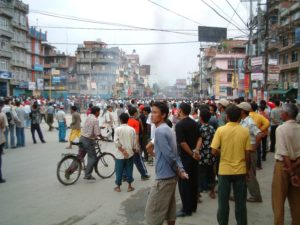 Around 11 a.m. we see smoke from the roundabout here in Jawalakhel and Gard goes out to see what is happening. Someone has placed burning tires in the middle of the road all through the roundabout. Gard accidently becomes witness to a group of people breaking into the manpower agency. They soon start to throw office equipment out of the windows at the top of the building. Computers, chairs and tables are being thrown out to the sound of glass crushing and the watching crowd screaming. The streets are full of people, several thousands altogether, as Gard gets uncomfortble with the high level of tension and decides to escape.
At this time I am home where I only vaguely hear something, like a choir from the distance. I get worried and calls the office situated in the centre of town, which I have not been able to reach today, because everything is closed down and the traffic stopped. Only a few have made it to work. One of my collegues, Jitendra, warns me that there are riots all over Kathmandu, tires on fire, people vandalizing office buildings and shops, arsoning etc. The rebels have already destroyed a mosque. – You better stay at home, he says.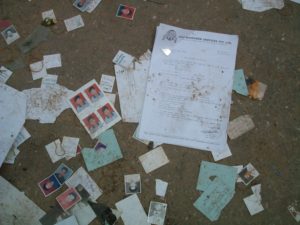 As this happens, Gard is in the middle of the heat in Pulchowk, Lalitpur. He suddenly discovers that he must pass the agitated crowd to get home in safety. A computer is being thrown out of one of the windows in the third floor and the crowd screems in extacy. Then chairs, tables, papers, wires, telephones and other office equipment follows. A police car drives past, but does not stop, understandably maybe, as hundreds of people are taking part in the incident and more than a thousand are watching. The crowd claps and cheers as the police car passes slowly without stopping. – Look what is happening to our country, a man says to Gard. – You should not be here. – Go! – Go!
Gard looks down to the ground as he slowly and carefully passes the crowd. Shortly after the phone rings. It is Tirtas, our maids husband with an anxious, crying daughter in the background, telling Tirta to come home. Tirta keeps repeating one word in nepali which I later understand means curfew. From two o clock today, if there are people in the streets, the army will open fire, she explains, waving her arms like shooting with a gun. – Sut. Sut, she says. Then she puts the pizza in the oven, and off she goes. Tirta is running a bit late because of the pizza, and before saying goodbye we laugh nervously at the idea of the royal nepalese army fighting little tiny Tirta in the streets.
At two o clock the whole city is deserted, only military guards and a few dogs (and maybe cows) can be seen. It is dead quiet. We discuss to buy rice and potatoes in case it will be more serious the next time something like this happens. After a while some kids go out to play and it all feels more relaxed. We watch BBC World, but agree that World Asian News are better. Then we watch Nepal Television and Gard thinks the destroying of the arab mosque in Kathmandu looks a lot worse than what he saw in Pulchowk earlier today. Then we put Kristoffer to bed and everything seems to be back to normal.
Kathmandu, September 2004
Annonser
---