I would like to have a small shop, Debi (35) says. We are sitting in her café, which is on the way to Sarangkot, just where the path is making a turn towards left, and you can see that another hill has to be climbed before you can reach the peak. The surroundings are pitoresque like in a tourist poster from Nepal, the spectacular Fishtale (Machapuchare) mountain dominating the background.
In these beautiful surroundings people are experiencing hard times. In the morning at five o clock Debi follows the steep path down to buy new refreshments for the tourists. From the bottles she carries up the hills on her back, she can make five rupees each, all depending on how much the tourists are willing to pay. These days all of her neighbours are competing very hard to get as much money from the tourists as possible. But most of the few tourists who come, pass without a word, annoyed with the unwanted atttention.
After Debis morning trip, she cooks dhaalbhaat (rice dish) for her familiy, before she starts a long working day with farming and houshold work. All of this to be able to send the children to school which is very costly near to Pokhara.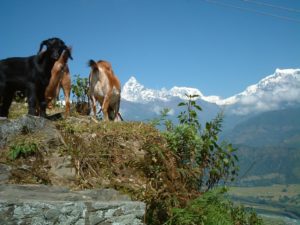 At first I hesitate to stop by the small, dark stone house, as I do not expect to find anything to drink which my stomach can take. Debi then brings me into her cafë, which is really the ground floor of her home, where she has made a small counter with different kinds of snacks and refreshments.
Where is your husband? I ask her.

He is in Pokhara, Debi answers.

Is he working there?

No.

He is unemployed?

Yes.
Debi has three children, one son and two daughters. All of them are going to school. It is a very hard job to raise all the money which is necessary for this purpose, but somehow Debi and her husband have managed to. Their home is situated just where a lazy tourist might start to feel tired.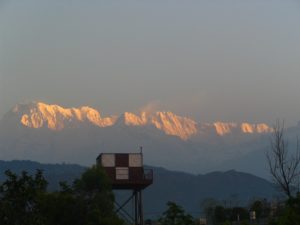 The problem here in Nepal is that we do not have any money, she explains. – That is our problem here.

What do you think about your country?

I would like everything to become like before.
Debi is referring to the Maoist insurgency which has now lasted for nine years already. Since that time people in Sarangkot, like so many people in Pokhara, have been virtually put out of business. Because of the political situation tourists stopped coming to Nepal, and people have been losing their income. All along the path children are asking for food or money. They are used to seeing tourists with expensive watches and shoes, high incomes and freedom to travel. They are struggling to survive, as they have become used to higher incomes during the better days, when the Annapurna Mountain area was crowded with joyful tourists.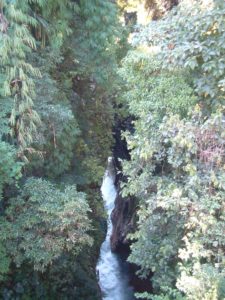 What would you like to do if you had power in Nepal? I ask.

We do not have any power.

But you can vote freely?

No, it is not possible.
It is not customary to show up in this place and start asking these type of questions. The neighbours at this time start coming to see who is this person talking to Debi and what does she want. An old man with a topi hat is standing in the doorway. In the beginning he is listening and looking from a distance, but soon he moves closer to our table. Denis daughter, who is doing the translation, starts giving short answers. Now she almost stopped translating at all. She looks down and into the wooden table.
I would like to have a tourist shop, Debi suddenly says. – With some souvenirs and artisans, maybe. May be even some clothing. Anything really. The problem is just that we can not get loans. We have a bank account, but there is no loaning system here. I am ready to do any kind of work. Anything. You name it.
Pokhara, November 2004
Annonser
---